It was a memorable year. You gave your time, resources, and heart to our communities and created more impact than ever before. 
Take a look at what we did together.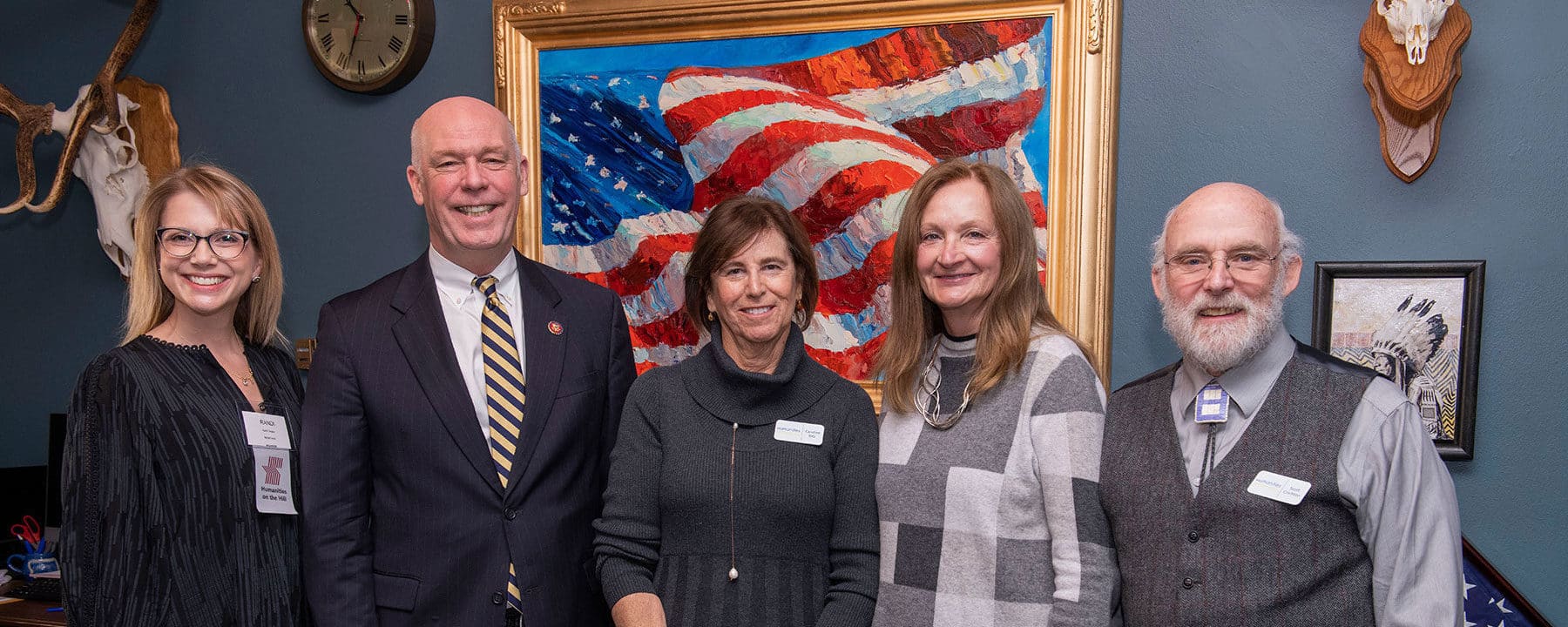 March 5, 2020, leadership from Humanities Montana Board of Directors and staff met with Montana's Congressional delegation in Washington D.C.
Humanities Montana is guided by a dedicated board of directors and led by a passionate staff. With a combination of experience and perspective, Humanities Montana leadership works to ensure we achieve our mission to serve communities through stories and conversation.
Our mission is to serve communities through stories and conversation. We believe Montanans should have access to quality public humanities content that nurtures imagination and ideas.
Our focus did not waver in 2020. Amid a global pandemic, our goal was to continue to support Montana's vital cultural infrastructure and connect Montanans.
The humanities are indispensable, so we extended the means by which we delivered our mission, rethinking how we interact with Montana.
Thanks in large part to the CARES Act, we refocused our granting process, regranting $537,311.90 to Montana's cultural institutions, a 754% increase from last year.
We reached 77% of Montana's counties in 2020 through regrants and programming
Organizations on 86% of Montana's Indian reservations worked with Humanities Montana for grant opportunities or program initiatives.
Of the over 200 organizations that partnered with Humanities Montana in 2020, 21% were new partnerships.
In 2020 we launched virtual humanities, allowing Montanans to connect virtually to discuss topics like women in journalism, race and change in the United States, and the shifting political landscape of Montana.
Our programs—both virtual and in-person—had a total audience of 10,272.
Harlowton Milwaukee Depot Museum
Part of Humanities Montana's goal is to support the invaluable work done by other cultural institutions, organizations, scholars, filmmakers, and leaders in our state. Wherever the human condition is examined, cooperative relationships are strengthened, civic discourse is enriched, and diverse stories are told, Humanities Montana strives to serve as a resource. We understand grants are important tools necessary to realize missions, effectively support communities, and drive stronger economies.
A survey administered by Humanities Montana in April 2020 revealed:
of cultural institutions reported they were at risk of closure due to the pandemic last spring
of responding organizations needed emergency funds to support core operations
of cultural organizations surveyed were at risk of suspending direct programming
The goal of Humanities Montana programs has always been to connect Montanans through the humanities. Though this year provided unique challenges, we adjusted our delivery to ensure that Montanans would have access to engaging programming throughout 2020.
This year marked a reimagining of our work, shifting a number of programs to online platforms. We reached nearly 1/3 of our audience virtually, a first for us.
Browse our 2020 programs book to see how we expanded our traditional programming methods to keep Montanans connected during the COVID-19 pandemic.
Humanities Montana thanks the individuals, foundations, and organizations whose generous contributions and involvement sustain our work throughout the state.
Your investment ensures that we can continue to create high-quality, dynamic programming with wide-reaching engagement. With your support, we are confident that our mission—serving communities through stories and conversation—will remain strong now and into the future.
Every effort has been made to list all donors accurately. For inquires, corrections, or ways to give, please contact us at
sara.stout@humanitiesmontana.org or (406) 243-6022. 
Humanities Montana is proud to report another year of strong support from our contributors. Donations enable us to serve Montana's communities and ensure we can continue to deliver sustainable, high-quality humanities programming. As we look ahead to growth and a return to in-person gatherings, we remain committed to responsible stewardship of the financial resources with which we have been entrusted.


*Statement of financial position at October 31, 2020. This position represents the fiscal year dates for Humanities Montana of November 1, 2019 – October 31, 2020.