Date
Sep 17 2020
Expired!
Brother, Can You Spare a Dime? Laughin' to Keep from Cryin' with Bill Rossiter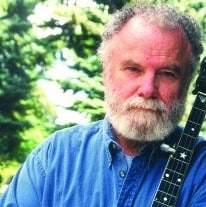 Join us for Music and Storytelling at Veteran's Memorial Park, 100 Main Street, Stevensville, MT
The Great Depression of the "Dirty Thirties" left Americans with a wicked gallows humor, a sense that if they could keep laughing, they wouldn't have to start crying. This program shows that spit-in-the-demon's-eye spirit, not through history and literature, but through folklore and "illiterature." Americans survived a disaster by using a great national resource: their sense of humor.
Bill Rossiter has been playing traditional finger-style guitar, autoharp and old-time "clawhammer" banjo music in bars, concert halls and back rooms for a reeeeelly long time. About his singing, reviewers have raved, "Yikes!" as well as "Hmmmm!" and "What the. . . ?" Bill has been a farm laborer, brakeman, Capuchin friar, factory worker, newspaper columnist, carpenter, public relations flack, disk jockey, ghostwriter and bartender.