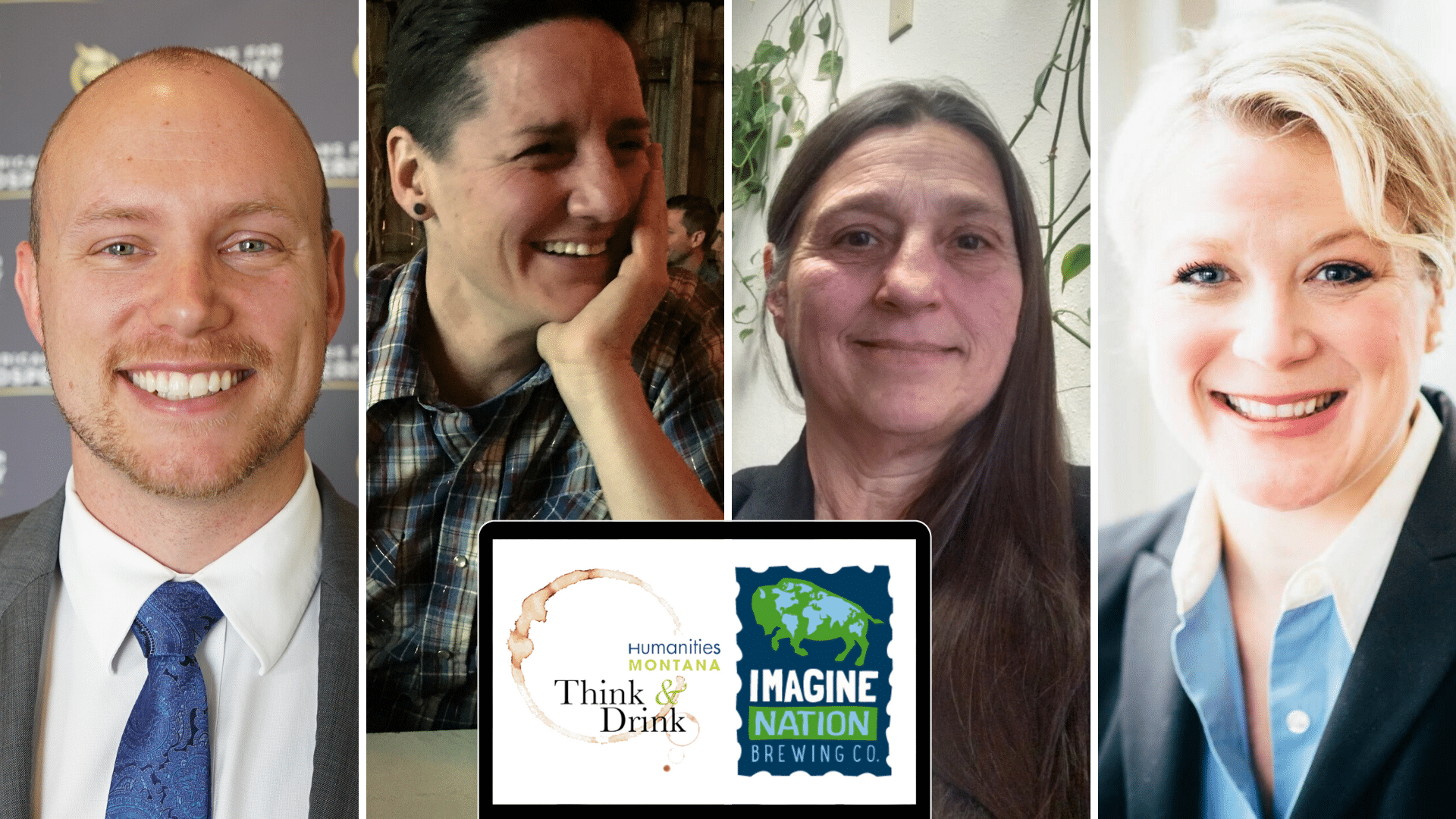 Date
Jan 30 2020
Expired!
Criminal Justice Reform: Past, Present, and Future
Humanities Montana and Imagine Nation partner for Think & Drink: The Past/Present/Future of Criminal Justice Reform in Montana, a conversation with local experts to discuss criminal justice reform in Montana on January 30 from 6:00 p.m. to 7:30 p.m. at Imagine Nation Brewing Co. in Missoula. Panelists include David Herbst, Ellie Hill, SK Rossi, and Maylinn Smith. Think & Drink invites people to participate in a facilitated conversation with public intellectuals who have expertise in the subject at hand. The idea isn't to create consensus but, rather, to have an open interplay of viewpoints and perspectives.
David Herbst is a fifth-generation Montanan with roots in Broadwater County. He has been working professionally in public policy since his 2011 graduation from Montana State University. As the state director of Americans for Prosperity – Montana, Herbst has led the organization to policy victories in tax, criminal justice, and regulatory reform. He's passionate about eliminating the government barriers that keep people from succeeding.
Ellie Hill, an attorney and Montana State legislator, is a celebrated voice for progress on the front lines of criminal justice reform, both in the courtroom and in the halls of the state Capitol. Voted "Missoula's Best Activist" for eleven straight years (2007 to 2018), she served as the longtime executive director of the Poverello Center, the state's largest emergency homeless shelter, and represents Montana on national boards, like AAUW, American State Legislators for Gun Violence Prevention, and National Council of State Legislators. Hill maintains a law practice in downtown Missoula, and represent the U.S. State Department South Africa this spring teaching young women empowerment and to lead their own communities.
SK Rossi is the Director of Advocacy and Policy at the ACLU of Montana, managing the legislative, organizing, and campaign advocacy programs. Rossi held the same position at the ACLU of Missouri before joining the ACLU of Montana and was previously the Legal and Policy Director for the Montana Coalition Against Domestic and Sexual Violence. Rossi graduated from the University of Montana School of Law in 2009 and has considered Montana their home ever since. When Rossi is not working, they spend their time with their partner and two dogs, exploring the beautiful lands of Indigenous tribes, colloquially known as Montana.
Maylinn Smith currently is the Civil Prosecutor for the Confederated Salish and Kootenai Tribes. She was a Clinical Supervisor and a Director of the Margery Hunter Brown Indian Law Clinic at the University of Montana, Alexander Blewett III School of Law for almost 25 years where she worked with students on Indian law issues in tribal, state and federal justice systems. Her legal experience also includes sitting as a Tribal Appellate Court Justice and lower court judge for several tribes. In addition to legal work, she provides training on Indian issues and has taught numerous courses dealing with Indian issues.
Moderator Danny Tenenbaum is an appellate public defender in Missoula and a former CSKT tribal public defender. Samantha Dwyer is the program officer for the statewide nonprofit Humanities Montana.