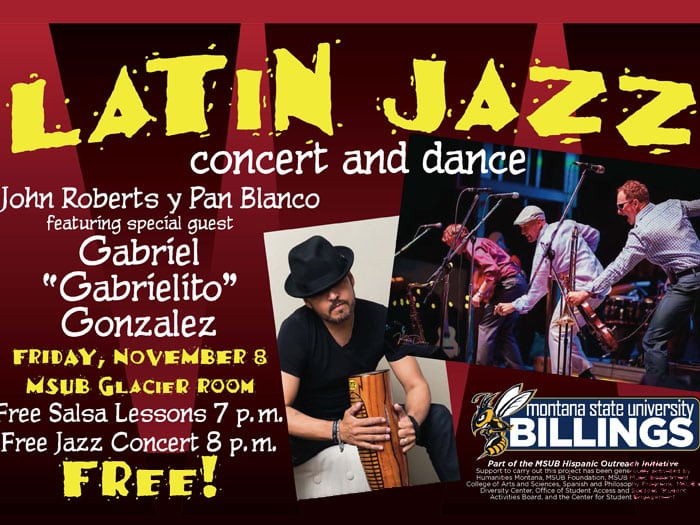 Date
Nov 08 2019
Expired!
Media, Music, and Activism in a Latino Context with Gabriel Gonzales
East L.A. Latino media artist, musician, and activist, Gabriel Gonzalez, will provide insights into a career in the arts from a bilingual and bicultural perspective. He will share his expertise in classrooms and workshops and join MSUB faculty John Roberts and Pan Blanco along with salsa instructors in a Latin Jazz concert.
As part of MSU Billings' Hispanic Outreach event, John Roberts y Pan Blanco will be joined by Grammy award-winning vocalist/actor Gabriel Gonzalez from Los Angeles! This concert is free for all. Dance lessons at 7 PM and live music from 8-9:30.
Gabriel will also be visiting the following MSU Billings classes as a clinician, and the public and all students are welcome to attend at no charge.
-Thursday, 2 PM, Nov. 7: Cisel 128. Songwriting and career seminar
-Friday, Nov. 8th. 10:30 AM. LI 148: Seminar on Latino music and career.
-Friday, Nov. 8th. 12:50-1:50 PM: Hispanic Tradition class.
This event is sponsored by an Opportunity Grant through Humanities Montana.