Spring 2021 Virtual World View Film Series: Cultures Coming Together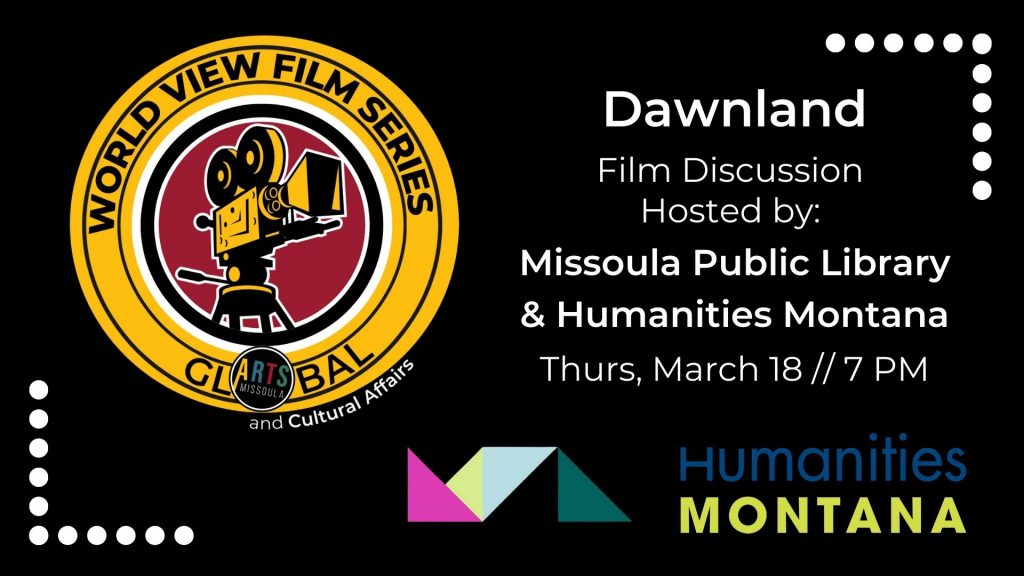 Dawnland Film Discussion: hosted by Missoula Public Library & Humanities Montana
Thursday, March 18 // 7 PM
The Virtual World View Film Series, offered by Global and Cultural Affairs in Arts Missoula, continues in 2021 with the spring theme "Cultures Coming Together." March's film is Dawnland, honoring Women's History Month. Dawnland, is available through vimeo here by using the password: four.green.pear
The post-film discussion on Zoom is scheduled for Thursday, March 18th at 7:00 p.m. and will be hosted by the Missoula Public Library and Humanities Montana and moderated by members of these two organizations.
We believe that when people get together, great things happen, so please join us via Zoom. Register below and the ZOOM link will be emailed to you. 
About the World View Film Series
In the fall of 2018, Global and Cultural Affairs in collaboration with The Roxy Theater inaugurated the World View Film Series, which screens four international movies (either foreign productions or with a focus on a country abroad) in the fall and four in the spring of each year. A five-person committee selects a seasonal focus and the corresponding films.
Udo Fluck hosts the evenings, every second Monday of the month, at 7 PM at The Roxy Theater, located at 718 S. Higgins Avenue. Local artist Courtney Blazon designs the official poster for each fall and spring season.
In 2020, in an effort to reduce the spread of COVID-19, we pivoted and offered the World View Film Series as a virtual event, selecting and recommending films on streaming platforms. We will continue the film series in a virtual environment until it is safe to return to the Roxy Theater.
The film series provides a "Window to the World" for Missoula that is FREE and open to the public!
For more information visit: The Arts Missoula World Film View webpage