Date
Sep 26 2020
Expired!
Walk & Talk: Into the Wild with Muir and Pinchot with John Clayton and Marisa Diaz-Waian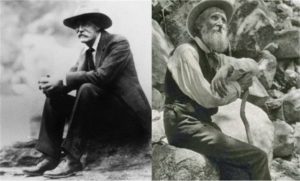 Bitterroot River Park
How do we relate to nature? Preservation-based philosophies – associated with author and wanderer John Muir – celebrate the spiritual benefits of holistic, unimpaired natural systems. Conservation-based philosophies – associated with US Forest Service founder Gifford Pinchot – highlight management and sustainability of natural resources for all. In 1896, Muir and Pinchot met in what is now Glacier National Park and discussed these philosophies. What happened next changed the course of history.
In this program, biographer John Clayton and philosopher Marisa Diaz-Waian co-lead a discussion about the unique lives of Muir and Pinchot and the questions their contrasting philosophies raise about "the wild" and our place in it. Some of the questions we'll explore include:
Are people part of nature, or separate (and inferior)?
How do we balance holistic spiritual benefits with specific resource-based ones?
What's more important, individualism or fairness and sustainability?
Can contrasting philosophies come together for a common good?
John Clayton is a nonfiction writer who is particularly drawn to the intersection of history, nature, and culture. His book Wonderlandscape: Yellowstone National Park and the Evolution of an American Cultural Icon won the High Plains Book Award. His previous books include The Cowboy Girl: The Life of Caroline Lockhart and Stories from Montana's Enduring Frontier. He often writes for the Montana Quarterly and Big Sky Journal, among other magazines. This presentation draws from his latest book, Natural Rivals: John Muir, Gifford Pinchot, and the Creation of America's Public Lands.
Marisa Diaz-Waian is the founder and director of Merlin CCC, a public philosophy non-profit based out of Helena, MT. A member of the Mellon Philosophy as a Way of Life Network, the 2020 Ethics Initiative Project "Connecting Generations through Ethics," and the Philosophy Learning & Teaching Organization, she presents and contributes regularly on ways in which philosophy can help to enrich lives and strengthen our communities and environment.