Current Montana Poet Laureate
Poet Laureate Menu
Affiliations & Resources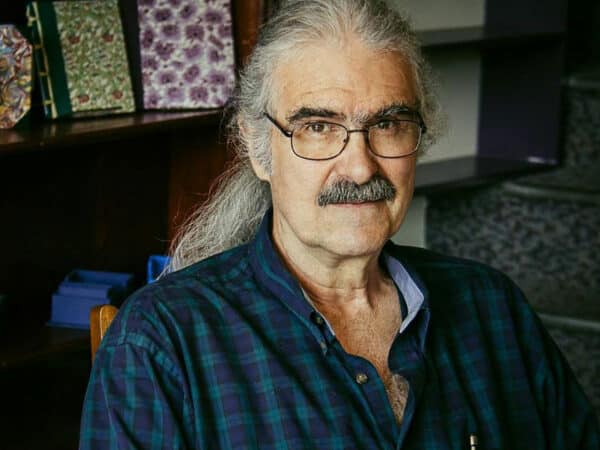 A Montana native, Mark is the author of 11 volumes of poetry. He's also a 2013 recipient of the Montana Arts Council's Artist Innovation Award and is the editor of FootHills Publishing's Montana Poets Series. His newest collection, "In the Weeds," was recently published by Drumlummon Institute. Mark has also served as a mentor and judge for Poetry Out Loud, the national student recitation competition, and has taught poetry in schools for the past three decades.
As Poet Laureate, Mark has created a new video series, Poets in Montana. In each segment a poet living in state will chat informally with Mark and share a sampling of their verse. The episodes will be available for viewing on this site and at mcat.org and new episodes will be uploaded regularly.
Gibbons' career got its start during a high school poetry workshop taught by James Welch, the author of Fool's Crow and Winter In the Blood, and he says Welch's teaching gave him permission to write poetry in his own voice and from his own experiences. Mark's early love of poetry included the work of Richard Brautigan, Charles Bukowski, Jack Kerouac, and other Beat poets, and his own voice developed while he was earning BAs in English and Psychology and an MFA in Creative Writing at the University of Montana.
Like a lot of area poets, Mark has also held down a variety of classic Montana jobs: dishwasher, janitor, carpenter, wood cutter, gandy dancer, surveyor, firefighter, furniture mover, laborer, truck driver, and teacher. In between doing all that, Mark has managed to publish work in numerous poetry journals and anthologies, and his solo collections include "Something Inside Us," "Circling Home," "Connemara Moonshine," "blue horizon," "War, Madness, & Love," "Mauvaises Herbes (Weeds)," "Forgotten Dreams," "Shadowboxing," "The Imitation Blues," "mostly cloudy," and "In the Weeds."
How did Mark, and his predecessors, become Poet Laureate? Every two years, nominations are submitted by Montana citizens. A selection committee drawn from members of the literary community then select finalists from among these nominations, and finalists are submitted to the Montana Arts Council board for review and approval. The Poet Laureate is then selected from the finalists by the Governor. Mark succeeds poets Melissa Kwasny and M.L. Smoker, who shared the post from 2019 to 2020. Reprinted with permission by the Montana Arts Council